WEDDING RESOURCES
The following resources are grouped for your convenience. First are those services only available locally here in central Texas. Then resources are listed for Wedding Planning, Creating Or Selecting Vows, Themes, Speeches, Flowers, Music, Bridal Shower, Reception and Video Production.
This resource list takes full advantage of the digital capabilities of this media. To access a resource simply click to select the linked item. You will be taken to the website or resource over the internet and find your selection fully explained there.
If you need to find someone you need this:

CENTRAL TEXAS RESOURCES –
Austin to Temple to Killeen. Including North Austin suburbs of Georgetown, Cedar Park, and Round Rock.
AUSTIN WEDDING MINISTER
Castle Christian – http://www.CastleChr.Com.
Dr. David Trumble is available to serve as Minister for Pre-Planning, Planning, Rehearsal, Officiating, And Follow Up as desired. Phone Contact: (512) 487- 1056.
Wedding Coordinator – Wed@CastleChr.Com
(254) 371-1564.
Jennifer Trumble provides expert planning and assistance for couples as they look forward to their dream wedding.
Custom Design, Sewing, Alterations, Embroidery –
(512) 635-0421.
http://www.DonnaTrumble.Com Donna@DonnaTrumble.Com
Donna Trumble has provided expert professional Design, Sewing, And Alterations services for over 30 years. If you want a one of a kind designer gown or simply have a gown altered to properly fit; you will be thrilled with the quality of service Donna provides.
Professional
Custom Design, Sewing, & Alterations
Professional
Custom Embroidery & Design
WEDDING PLANNING RESOURCES: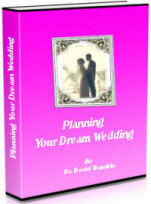 Dr. David Trumble's guide to planning your dream wedding, and maximizing your wedding budget. Vital worksheets provided.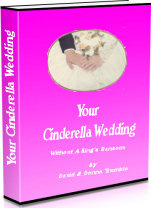 Dr. David Trumble's planning guide to achieving your dream wedding.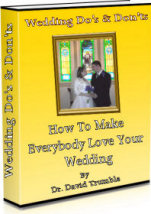 Dr. David Trumble's
wedding planning guide
to protocol and keeping peace through the tensions of your wedding.

Wedding Planning Secrets.
How To Have Your Fairytale Wedding
On A Shoestring Budget.


How To Plan Your Fabulous Wedding?
A Simple, Step-By-Step Guide
To Throwing The Most Unforgettable Wedding.
Learn How You Can Avoid All The Unnecessary
Hassle In The Making Of Your Wedding!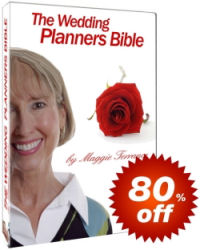 Wedding Planning
For Brides And Grooms.
Comes With Free Software.
For Those Situations Where A Prenuptial
Is A Good Idea.
CREATING OR SELECTING YOUR VOWS: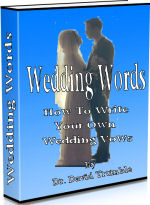 Dr. David Trumble's
collection of wedding vows and ceremonies.
A vital resource for selection and personalizing wedding vows, pledges, and more.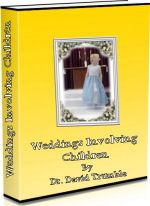 Dr. David Trumble's
guide to wedding vows involving children.
Discover practical ways to involve children in the wedding, and strengthen their connection by including them in the wedding ceremony itself.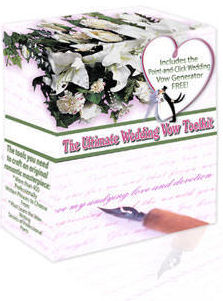 The Ultimate Wedding Vow Toolkit.
All The Tools You Need To Write Vows
That Are A Romantic Masterpiece.
Instant Wedding Vows
Marriage Vows And Marriage Vows.
Instant wedding vows.
Weddings Weddings!
Wedding Ceremony Book.
Over 10,500 Sold.
PERFECT WEDDING THEMES: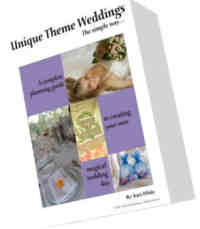 Create A Theme Wedding
As Unique As Your Love.
Discover The Secrets Of Planning Your Theme Wedding The Right Way. This Book Is An Extensive Wedding Theme Book Containing Specific Details On How To Plan A Theme Wedding.


Wedding Themes And More.
An Excellent Source Of Unique Wedding Books and Theme Ideas.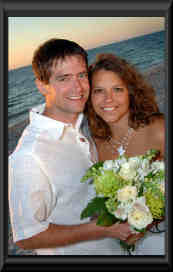 My Perfect Beach Wedding.
'They All Groaned When I Said I Wanted To Get Married At The Beach... But The Groaning Turned To Excitement (And Envy) When I Showed Them How Stress Free, Inexpensive, And Easy It Would Be...
WEDDING SPEECHES
& SPEECH RESOURCES:
All Types Of Wedding Speeches.
This resource provides many different kinds
of speech sources and assistance.


The Wedding Mc Jokebook For Masters of Ceremonies.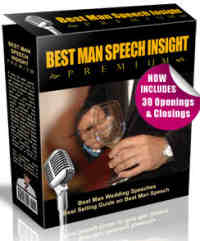 The Best A Best Man Can Get. Best Man Speech Guide, Samples, Templates, Toasts, Jokes, Quotes, One-liners...

World's #1
Selling Wedding MC Guide.

The Wedding Mc: A Guide To Success.
A Complete Guide To Success For
The Master Of Ceremonies.


Speeches And Toasts.
Professionally Written, Fill In The Blank
Speech Templates. Speeches for all occasions.
WEDDING FLOWERS

Create Your Own Wedding Flowers.
Step-by-step Guide To Creating
Fantastic Wedding Flowers.

WEDDING MUSIC
Classical Sheet Music Albums For Weddings ,
Funerals, & Occasions. Download PDF Albums (with Midi Files) of Classical Wedding Music Including the
4 Volume "Top Ten Classics Series".
BRIDAL SHOWER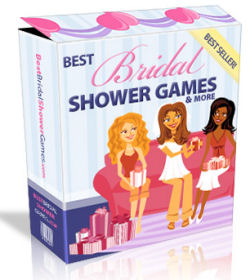 Best Bridal Shower Games And More
Printable Games, Themes and More. Everything You Need To Know About Planning And Hosting, A Fun And Entertaining Wedding Shower. 25 Printable Gabes, 22 Unique Themes, Gift Ideas, Ultimate Checklist,
Tips And So Much More!
RECEPTION PLANNING
The Wedding Reception Kit.
Includes Everything A Bride And Groom Needs
To Plan Their Reception Easily. Song Ideas, Templates, Tools and Many Secrets!
WEDDING VIDEO
DO IT YOURSELF

Wedding Video Secrets:
A Professional's Guide For Doing-It-Yourself. This is a Comprehensive Do-It-Yourself
Wedding Video Production Guide.
STRENGTHENING
YOUR RELATIONSHIPS