Wedding favors from our online store include a wide range of selections for your wedding favors.
They range from formal to less formal to practical, to unique.
Many couples want to give out one of a kind favors to each of their guests.
This is especially true when a couple decides to plan a wedding that reflects their fun and creative side. There are many fun and creative wedding favor ideas available in the market today, and here some of them:
Miniature "Good Luck" Wooden Elephants Wedding Favors.

For couples who always believe in charms and other symbolic accessories, these mini elephant wedding favors make an aged symbol of good luck for the wedding guests. These unique wedding keepsakes come in exquisite elephant-like figurines as well as may other designs. They are beautiful as rich decorations at an Indian wedding. Crafted from wood, these mini elephant wedding favors show your enduring gratitude and sentiment in a classic symbolic way.


Magnetic "LOVE" Wedding Favors are great for both wedding and office themed bridal shower. These clever party magnet favors can make a great gift to each of the guests.
Add a touch of panache to classic office supplies. We all know that magnets are one of the most practical wedding favors to give out. It seems you can never get enough.
These Magnetic "LOVE" Keyboard Set Wedding Favors come in plastic cases which contain refrigerator magnets that distinguishably resemble keyboard keys of computer, decorated with a cute heart.


Miniature Wooden Birdhouses Wedding Favors.
Planning for a garden themed wedding?
These Miniature Wooden Birdhouses Wedding Favors make a wonderful wedding gifts for your guests. These mini birdhouse wedding favors come in Earth tone colors and moss detail. They are perfect as wedding gifts as well as wedding decor, too! Each package contains four birdhouses. They make lovely presents at your bridal shower or wedding reception too!


"Olive You!" Glass LOVE Oil Bottle in Signature Tuscan Box
This bottle of olive oil in signature Tuscan box is a perfect way to say thank you to each of your guests who shared a precious time with you. Let your guests take one, which will make their kitchen counter decorated with an ingenious gift from the heart. Each bottle of this olive oil come with imprinted letters spelled LOVE with an olive as a part of the decoration. Each bottle is amazingly packaged in a floral gift box, in black and white colors. The boxes were finished with black organza ribbons, unique poem and olive embellished thank card.
These unique wedding favors and hundred of others can be purchased at our online store.
Actually, there are over 2600 creative and fun wedding favors available at our online store.
Now, if you are also looking for other creative wedding supplies, look no more, since you are already facing your computer. Almost all the wedding accessories you need can be found at our online store as well, it is all up to you on what to choose.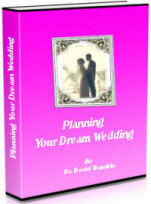 Dr. David Trumble's guide to planning your dream wedding, and maximizing your wedding budget. Vital worksheets provided.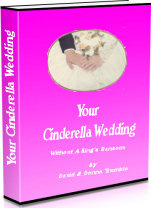 Dr. David Trumble's planning guide to achieving your dream wedding.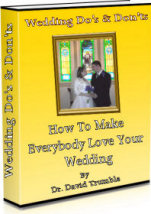 Dr. David Trumble's
wedding planning guide
to protocol and keeping peace through the tensions of your wedding.