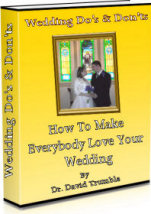 Wedding Do's & Don'ts
How To Make
Everybody Love Your Wedding
Do you have people in your family who seem to be conflicted much of the time?
Do you have people who take control without being asked?
As you plan your wedding what are the chances that some of your family members may just get their feelings hurt or hurt somebody elses?
Now Discover
The Secrets Of Planning And Doing Your Wedding Without Fighting, Conflict, Or Discord.
When you follow these simple dos and don'ts you can anticipate and fix problems often before they happen.
In this 112 page book, you will learn the essentials of wedding etiquette, wedding protocol, and the essential rules to keep everybody happy.
There are traditions and there are expectation, but they are all manageable when you follow a few basic dos and don'ts.
You will find this book both practical and helpful. This ebook will guide you through issues of who does what, the proper roles of Bridesmaids, Maids of Honor, Best Man, Mothers of Bride and Groom, and much much more.
Discover how to prevent problems, overcome disappointments, and create a positive loving environment for your wedding. This ebook reveals the subtle protocol of weddings so you can have the confidence to work with all the different people in your wedding.
When there is a question about who should do what, just check Wedding Dos And Don'ts? Save your self loads of grief.
You will treasure the insights here on how to work with difficult people and how to keep peace in the family.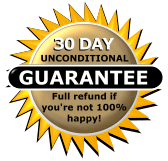 Make Everybody Love Your Wedding
and you too.
The Regular Price For This Book
Is $29.95
Now For Limited Time Only
Sale Priced At
$19.95
Get Yours While You Still Can.
Following the completion of your transaction, you will be taken to the Thank You Download Page where you can instantly download your ebooks. If you have any problem, please contact me at info@weddinghow.com.