Wedding Candle Favors Are Suitable For Every Wedding Theme.
The date is set.
The bridal gown is being altered for the perfect fit.
Those invitations so painstakingly selected have been sent out to all the important people in your life.
The only detail left is choosing wedding favors. There are so many great styles of wedding favors to choose from, how does one decide which is best for their event?

What small token should the guests receive to ensure that they always remember your special day?
Wedding favors do not have to be expensive or complicated. For an easy, but elegant solution, consider these wedding candle favors suitable for every wedding theme.
Traditional Candle Wedding Favors
For that streamline, classic look, a votive in ivory and white is the best option.
But there are several ways to incorporate elegance and style using these classic wedding hues. A fragrant plumeria wedding candle adorned with flowers directly on the wax, for example, adds color and character to a traditional votive. Once lit, this candle will look like a graceful little flame atop a lacey pillar.
Celebratory Candle Wedding Favors.
A great alternative to the traditional white votive is a gel wedding candle in a wine glass candleholder. This grape-scented wedding candle reminiscent of a well aged merlot is sure to compliment almost every wedding theme with style.
Of course, the rich red wine shade may be too much of a contrast for some wedding color schemes. If this is the case, James Bonds drink of choice might work a tad better. With the decorative olive resting at the bottom of this martini wedding candle, your guests will not know whether to find a lighter or a swizzle stick.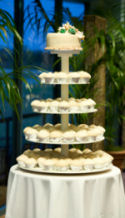 Delicious Candle Wedding Favors
If your reception theme revolves around that decadent creation being whipped up at the bakery, your guests will adore a butter cream cake wedding candle sitting atop a classic white ceramic pedestal. Decorated with pink polka dots and green ribbons, this wedding candle favors color scheme is simple enough to compliment even the most vivacious wedding theme.

Your guests are also sure to enjoy a sweet smelling ice blue three-tiered cake wedding candle.
While some prefer this wedding favor in the winter months because of the delicate snowflake-like designs, it is the perfect accent to any wedding featuring cool shades of blue, even in the summer.
This favor is especially perfect for the bride and groom who either share a love of winter weather or have a meaningful winter story to share with their guests.
Fragrant Wedding Candle Favors.
Coffee is one of the most universally recognized and enjoyed scents. Even guests who are not devout coffee drinkers will love its rich aroma for months after your wedding. Packaged in a lovely espresso cup with a chrome handle, this is a wedding favor your guests will keep and use long after the candle is gone. Consider sprinkling a few chocolate covered espresso beans around the gift for that extra special touch.


Wedding guests will also enjoy fragrant flower scented wedding candle favors. Look for bright colors that compliment your wedding color schemes, and package the wedding candles with small sachets of potpourri and flower petals.
Beach Candle Wedding Favors.
Many newlyweds dart off to a tropical paradise honeymoon after the wedding festivities come to an end.
Giving your guests a taste of that sandy, sunny escape is a great way to let them share a little piece of your wedded bliss. Sandcastle tea light holders are a whimsical way to do just that. With their sandy turrets and waving flag, these candleholders are a tasteful addition to every knickknack shelf, with or without the tea light. Wedding candles work great.

Wedding Video Secrets:



A Professional's Guide For Doing-It-Yourself. This is a Comprehensive Do-It-Yourself Wedding Video Production Guide.
To give your wedding guests a real taste of the beach, make candleholders out of small globes with sand and real seashells. These creative wedding favors are reminiscent of beach bonfires, and make great decorative mementos.
For a simpler look, without the risk of spilled sand, consider a gel wedding candle with seashells and a tiny starfish floating at the bottom. This glimpse to the bottom of the sea will fit any color scheme. And the best part? No scuba gear is required to gaze upon these watery treasures.
Wedding Candles are easy, tasteful wedding favors that let your guests know how much you appreciate them.
And no matter how simple or complex your wedding theme, it is easy to coordinate complimentary wedding candles.
From traditional to whimsical, wedding candle wedding favors are inexpensive and practical.
When paired with a creative or thoughtful candleholder, your guests can enjoy a special keepsake for years to come.