Unique Wedding Favors, Bridal Party Gifts & Unity Candles are all available to purchase on line where you can save big.
Most couples spend a bundle on their wedding without even realizing that there are affordable options that are available to them online.
Some of the best products for weddings - unque wedding favors, bridal party gifts, and wedding supplies-can be found online, and at great savings to you.
Because online businesses do not carry a large overhead like regular brick-and-mortar stores, they are an ideal place to shop for all of your wedding-related items.

Whether it's a fairy-tale wedding with hundreds of guests, or a simple wedding with only family and close friends attending, you can save between 30% to 40% when you shop online and get the same exact products that are being sold in retail stores.
What do you need for your wedding?
The groom usually purchases gifts for his best man, groomsmen, ring-bearer, and his ushers. Brides usually purchase gifts for her maid of honor, bridesmaids, and flower girl.
ENGRAVED OR MONOGRAMMED GIFTS FOR YOUR BRIDAL PARTY


Flasks, money-clips, cufflinks, mugs, shot glasses, pocket-knives, lighters, pocket watches, and cigar humidors are all excellent gifts for the groom's best man, ushers, and groomsmen. For the ring-bearer, depending on age, the groom can purchase items such as an engraved silver train bank, personalized baseball or baseball bat.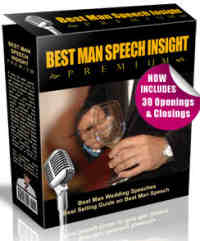 The Best A Best Man Can Get. Best Man Speech Guide, Samples, Templates, Toasts, Jokes, Quotes, One-liners...
Bridesmaids will love a sterling silver locket with their initial engraved on it, or personalized heart shaped compacts. Engraved charm bracelets make nice gifts for flower-girls.
PERSONALIZED HEIRLOOM QUALITY UNITY CANDLES
Unity candles are a wonderful way to commemorate your wedding, especially candles that are personalized with the names of the bride and groom, wedding date and style of choice, ranging from simple to extravagant. Heirloom quality candles can be passed down for generations to come.

WEDDING FAVORS FOR ALL OF YOUR GUESTS
Wedding favors make great lasting impressions on your treasured guests, and luckily, the best wedding favors are available online.
Crystal favors make elegant wedding favors and are available in many styles. There are also place card favors in shapes such as wedding bells, wedding cakes, tiny chairs, and more.


Everyone wants their day to be one of the most special and memorable days in their lives. Make yours even better by knowing that you saved some money in the process.